Think about your favorite bar. Now think about your ideal set up at that bar. Is it a bar seat? Is it a booth? Is it simply wherever you have room to stand? This is something I've been thinking a little bit about recently, specifically at some of my favorite Dot bars. Here's what I've come up with…
Dorset
Any of the seats on this back row at the bar, particularly the corner, is probably the best spot at the bar for 1-2 people. The best for a larger group is that table right before the stairs. If you have like 8-10 people and can have that table for dinner and kind of slowly ease into the night when everyone's standing around, that's gotta be the best spot. You can see people coming into the bar, everyone who is going downstairs walks by, and you're close to all the bathrooms. I love having a big table for a big group to gather around. The best for a 4-8 people is probably a high top by the window (couldn't find a good picture). It's similar to that large table, but the high-top is just perfect for standing around for a few hours.
Lower Mills Tavern
As you'll see, I love a corner bar seat. It's mostly about people watching and being able to see pretty much the entire bar, but this one is also by the windows, so if it's nice out you get that too. Plus with a corner like this, if you're out with a few people, you can kind of all huddle around there and not bother anyone else. A little tough angle for the TVs, but you'll be okay.
But also, there aren't too many bad seats at LMT. Sure with some, your back will be to the TVs, but if you can stand around a high-top, then you'll be all set.
BOWERY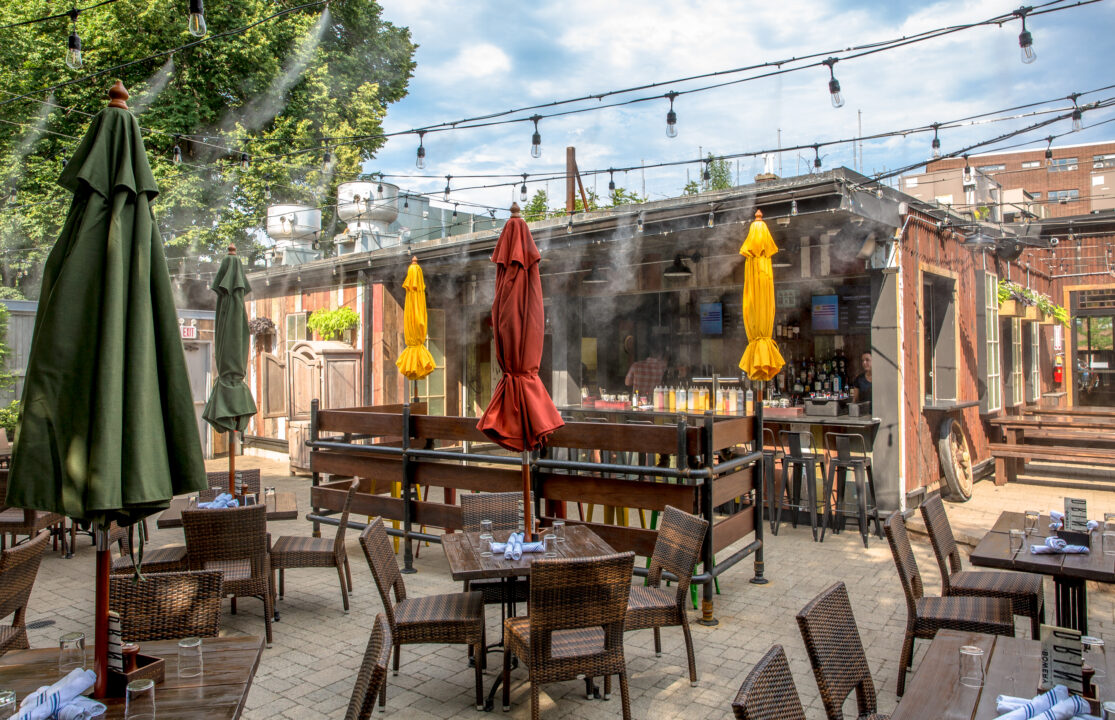 Okay, the back of Bowery is probably the best part because it's open year round. I've never experienced the yurts though, but they look sweet. Maybe because Dot doesn't have many outdoor options (pre-covid at least), this scene is great. You kind of can't beat summer time out there: a table, a barrel high-top, bar seat, umbrellas in the heat, heaters when it gets cool, it's all great!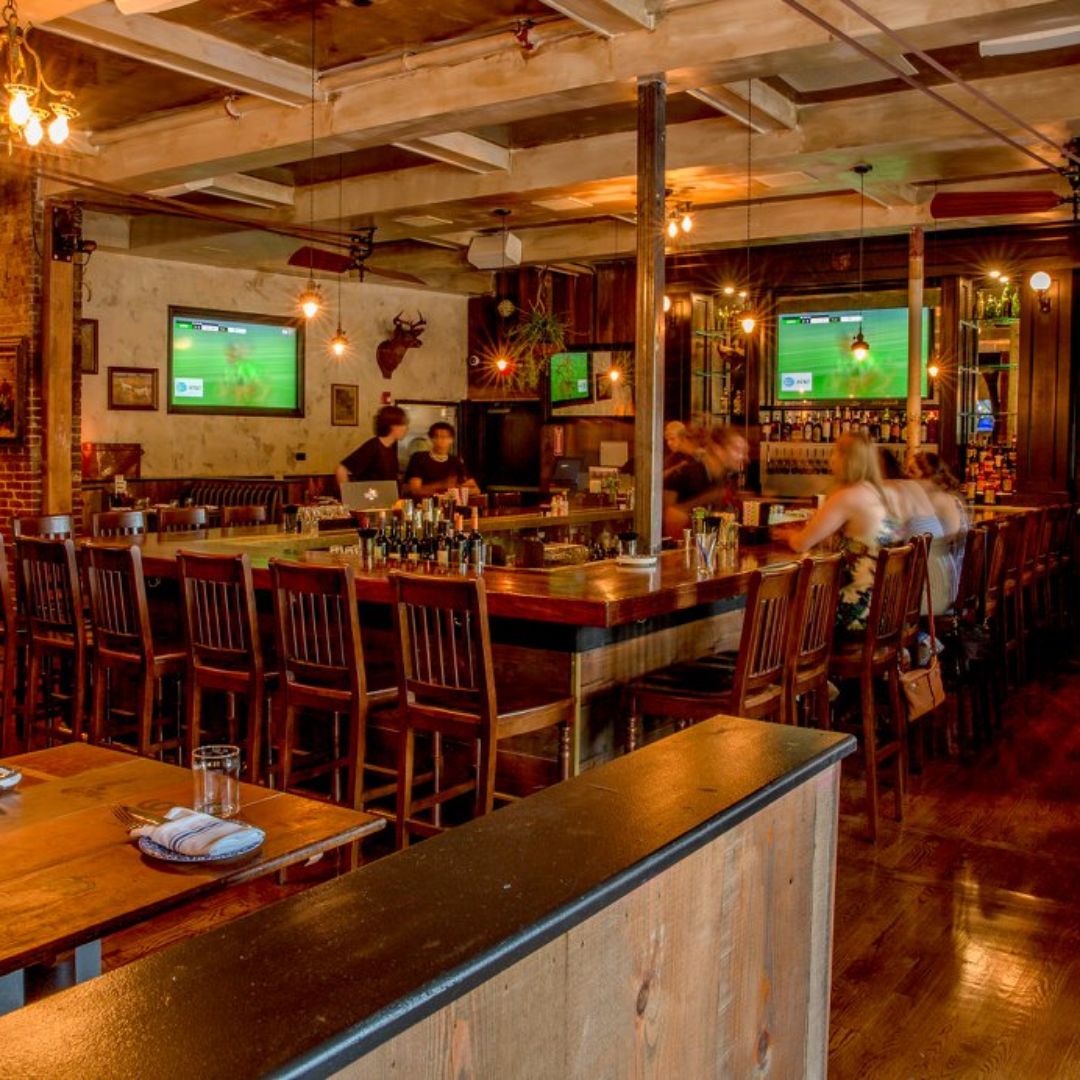 But Bowery also has some sneaky good spots to sit inside. This row of bar seats is great because it's got a perfect TV angle, is close to the bathrooms, and you pretty much get to see the whole bar. The high booths behind it are great too if you're sitting for a meal.
LUCY'S
Any high-top by the window is ideal in my opinion. Where that guy in the white shirt is sitting is probably the best spot at the bar (it's a corner of course), but it can get wicked busy at the bar, so it's nice to have a table and a server if possible.
LANDMARK
If you have a few people and are able to grab real estate around that island, then that's probably your best bet. Have your most aggressive drink-getter on the side with the bar for easiest access in case it gets busy.
But also, this corner on the right is so great. Plenty of room for a few people, next to the window, and close to the jukebox! Only setback is it's the furthest from the bathroom, but the bathroom is all the way in the back, so it's tough to navigate regardless.
YELLOW DOOR
Yellow Door is tiny, so any seat at the bar is perfect. I like this corner of course, but it might be too close to the entrance (where the door is always open in the warm weather).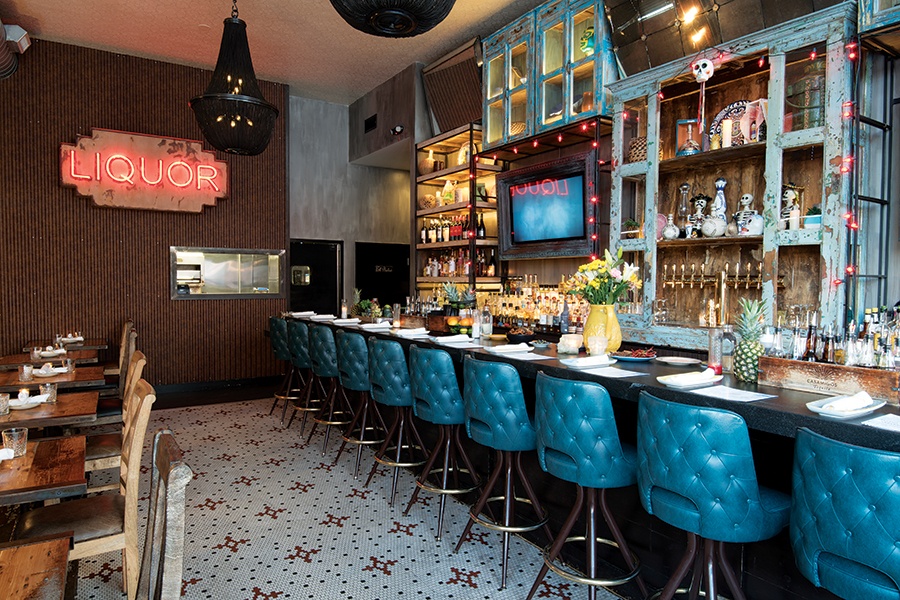 Tables are okay, but I think sitting at the bar is a must here.
_
I really hope to see you at some of these Dorchester spots post-pandemic, so save me a good spot!