Think about your favorite bar. Now think about your ideal set up at that bar. Is it a bar seat? Is it a booth? Is it simply wherever you have room to stand? I've been thinking a little bit about this, and even wrote about for my favorite Dot bars in a past Boston Week. But since I'm a toonie now, here's what I've come up with for some spots in the Town…
Monument
My personal preference here is at the middle of the long bar. Normally a fan of high tops, the fact that you can't just hang out at one of them (on the right in the picture), makes me opt for the bar instead. Those high-tops are more reservation, sit-at type tables which is a huge bummer. The bar though is pretty great, and the middle gives you good enough access to be lined up with a TV, close, but not too-close to the bathrooms and far enough away from the crowd around the hostess stand. There are smaller tables on the other side which stink, Monument really ought to consider changing its layout.
Warren Tavern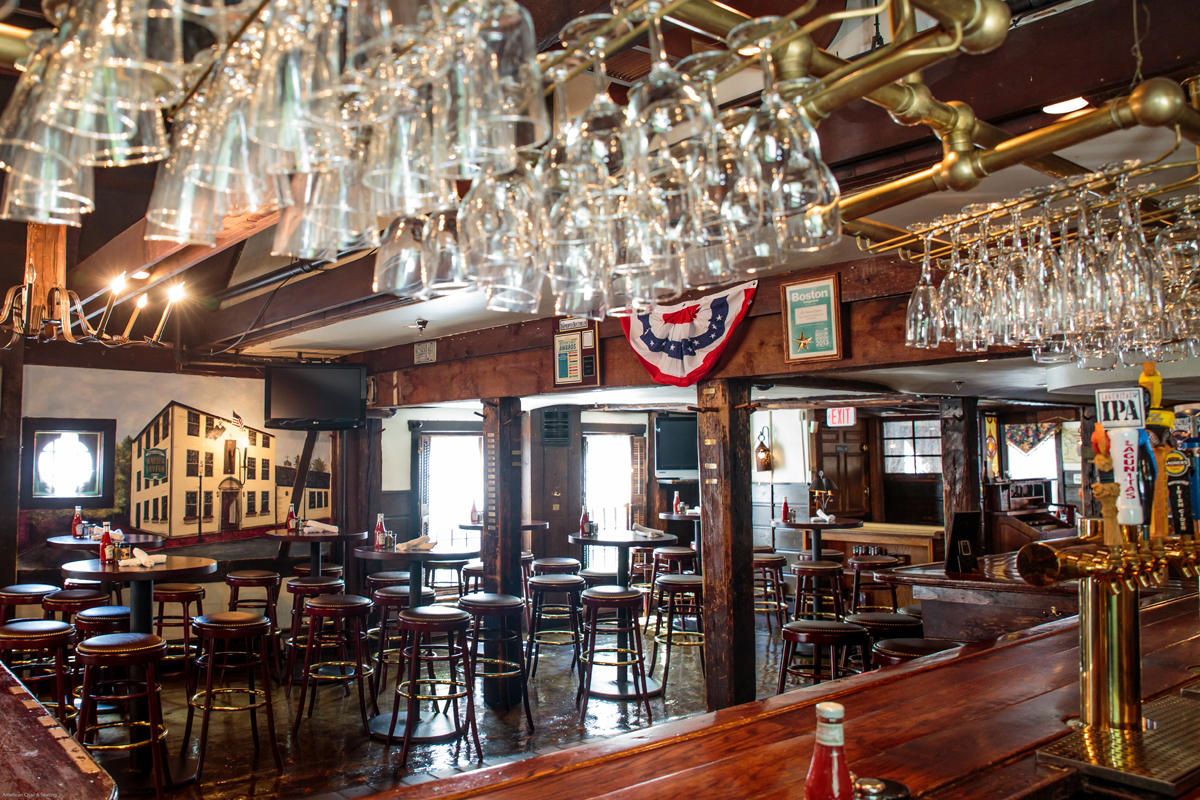 Named after America's forgotten Founding Father, Dr. Joseph Warren, who was killed by the British at Bunker Hill, this little bar is one of the most famous watering holes in Boston. If you can grab one of those high-top tables, you'll be in good shape. It is said that while sitting at one of them, George Washington folded up a rough draft of his Newburgh Address to slip under one of the legs of the stool to stop it from swaying.
But at the bar, here's where I'd suggest enjoying a few. You got a corner, which everyone knows I'm a fan of, you're near a TV, and enough away from the door, tables, and line for the bathroom. Plus I think this was where Paul Revere drunkenly rambled about how he deserved a statue around town. Clearly someone was listening…
Waverly
This is Charlestown's newest bar and the one that's closest in distance to me (right around the corner)! It's a pretty small bar, but if I was able to pick where I sat, it would be at the three chairs I circled above. The entrance is kind of right at the corner of the bar, so I don't love being there. The seats to the far left and just too tucked in for my liking, and the very last seat on the right is next to a walk-thru for bartenders and servers. BTW, shout-out to Gil at the bar who makes a great espresso martini!
Brewer's Fork
I know it's a little opposite of what I've been saying with other bars in Charlestown – close to the entrance, tucked away – but I like that at this spot, you can really see the whole bar. People watching is for sure a factor in where you might want to sit. The high-tops at BF are similar to the ones at Monument, you can't just claim one and have a group hang around it, which is unfortunate because that would be the best spot.
Pier 6
There's really not a bad spot at Pier 6, especially when it's nice out and you can either sit outside, or inside with the windows open. So I would honestly first suggest trying to get a table on the right, but if the bar is your preference, or only option, I'd say it's one of these circled. **Disclaimer: this does not include the downstairs bar, or the back deck area**
Tradesman
There's a bunch of good spots at Tradesman- outside, booth, high-top table, and almost every bar seat. And although I've sat everywhere except the bar here, I would choose anywhere in the picture above. Overall good scene for watching TV, talking with others, people watching, etc.
Dovetail
I've only eaten at Dovetail once and really liked it. This was also the only decent picture I could find, but I would say go for the bottom of the horseshoe at the bar (or is it the top?).
_
I really hope to see you at some of these Charlestown spots, so save me a good spot!