When I left for college, I knew that my distinct accent and unabashed love for Boston was going to be either welcomed or stiff-armed aside. A fitted Red Sox hat was worn at all times and anyone who wanted to find out my opinion on saying you were from Boston but were actually from Sandwich, found out quickly. I loved and still love the 617.
So when I moved home years later, and friends came to visit, I wasn't going to take them on the Freedom Trail or Duckboats version of a tour of the city, albeit I've done both and have always enjoyed them. I was going to show them the stops that made me brag about this place for so long. Some of you have done this with me, some of you might be convinced to book a trip soon. This isn't an exact list but take a look and let me know if you would add something that always is a must for your out-of-town friends:
Harpoon Brewery: Yes, I start here almost every time and you know what, I hope you're judging me. Because if you're coming to my city, I need you to dive right in. If you've been here before you know what I'm talking about. Quick half hour tour and taste a few fresh samples to get it going, followed by an hour at the bar. Of course you need to get the freshly baked pretzels which are made from some of the fine ingredients that Harpoon uses for their beers. If you haven't gone here, and you would like to go, I'm always down. And if you've hit your breaking point with this social distancing, I say we all go there first.
You're already in Southie, but you're also near the Seaport. So what to do? Well, I've already pointed out the L St Tavern and start talking about all the movies that have been filmed here. I drove to Castle Island and depending on the weather, it's a must to walk around the Fort and maybe snag a hot-dog and black & white frappe. I'm a big fan of being near the ocean so you're going to get a swift whiff of a sea breeze for most of your day. There's no better place to enjoy those thick Boston accents on a summer day in Boston when you're hearing a parent berate their kid to lick their ice-cream cone or stop petting the strangers dog.
Alright, you've been drinking, you've had some food. Might have to walk around a bit so we head straight to Boston Common. Could you do the swan boats? Sure, do we have time to wait in line for an hour, no, so it's pointed out and we keep walking up the hill towards the state house. This is where the Freedom Tour info will start and you'll hear things about the revolutionary war and how I put together a high school project about my experience of the Freedom Tour but Mr. Irwin my history teacher didn't take them back to his office and let the janitor throw them away. COME ON!
I can tell you're over it, sure it was fun at first, but can we sit down for a second you're thinking? Yes, you can. We get to Purple Sham… damn it. Sorry, old habits. We are in the Faneuil Hall (not flannel, yes it's been said before, they know who they are) area, pick a bar, any bar.Union Oyster House has been around since 1826 and

Quincy Market

gives you a quick glimpse into what it might have been like back in the 70s. Can't wait to get to the new Sam Adams Brewery Room which just opened before this madness. I'm not letting you take a break, because if we go home, we won't go back out.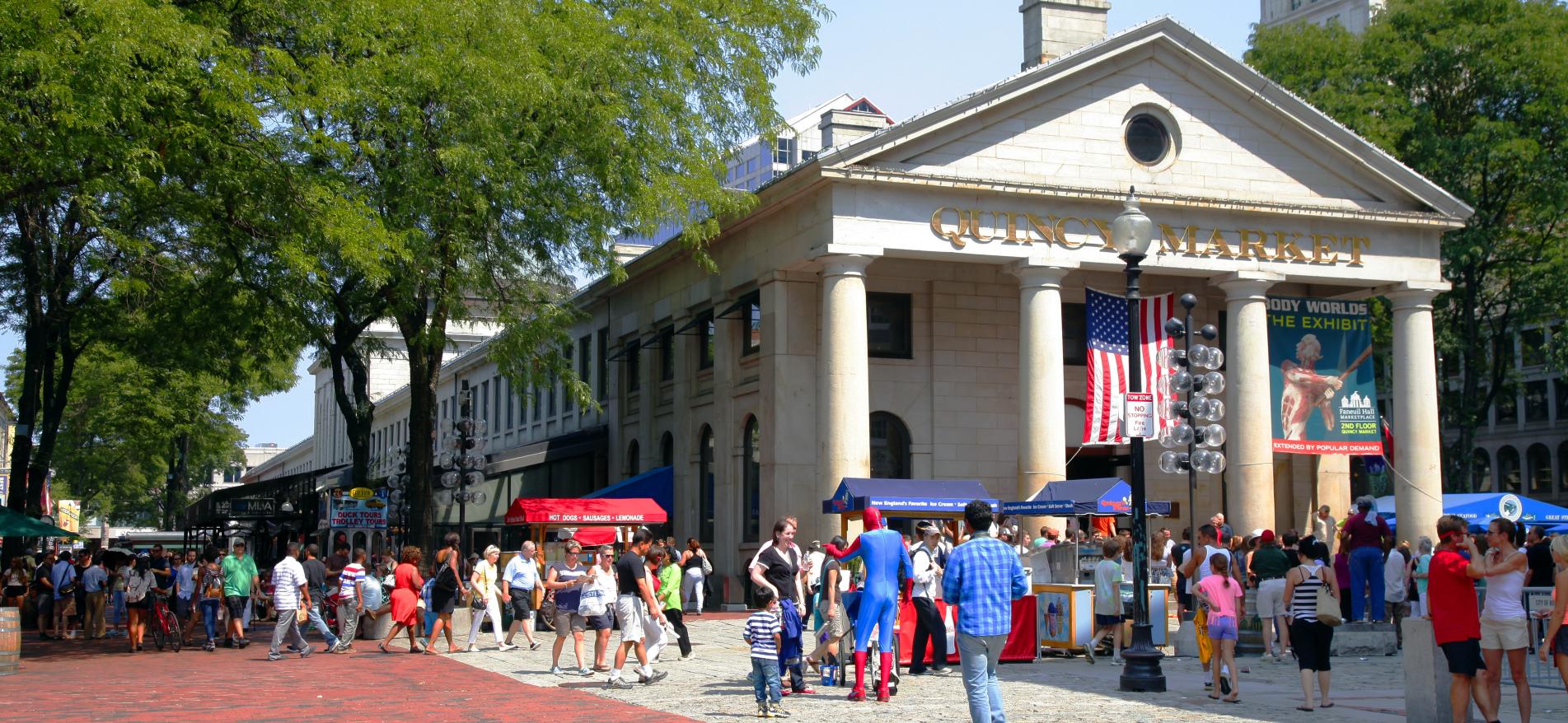 So we stroll on over to the North End. We have reservations at a fancy Italian restaurant but, I say we skip that and head to Regina's for a couple of slices. It'll hit the spot and is the best pizza after a long day of learning that I haven't gotten over Mr Irwin throwing away my project.
I talk a lot. We know that if you're reading this. But when I get to talking about how coming into the city with the family as kids and going to the Franklin Park Zoo or New England Aquarium, those memories are still so vivid that both places sound like something you might want to check out the next time you're here. Wait, you haven't been to Fenway Park yet, oh you have to come back and check out a game. Did you know that Boston has 35 colleges, you do now.
I'm bragging again and depending on the time of night, we could be going to JJ Foleys. Yes, have to have a final, final. But I know you've had fun and you're talking about coming back. No, you don't want to come back in the winter and I don't blame you. I hate the snow but we deal with it because of days like today.
There are plenty of cities I'd love to go to and if you're from there, I'd love a tour. But the part I enjoy is just roaming around and feeling like you're discovering parts that not everyone does on their weekend get-away. New Orleans was the last trip that felt that way and I spent 7 years in DC and could show you the hot spots there too. But nothing beats Boston. Just picture a 73 degree day at like 7:03pm walking over the Moakley Bridge. Are you heading to the Seaport or Financial District? It doesn't matter. You have a tiny sunburn and your feet have been sore since I started talking about GD Mr. Irwin.
The last month and a half have been brutal and I know we've all gone through the ups and downs of being stuck inside. If we just keep thinking that this day is still eventually going to happen, it'll make us all feel a little bit better.