We're closing in on the top 10!
16. Always Be My Maybe (78/100)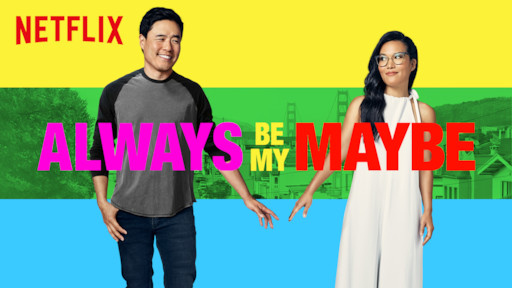 This Netflix produced rom-com was a real surprise! I like Randal Park and I thought he did a really good job in this fun flick. He also wrote and performed a few songs, which is pretty cool!
The Keanu cameo was great. 
Based on the first two acts, I thought this could be close to some other recent rom-coms that have been really well made, like To All The Boys I Loved Before and Crazy Rich Asians. While those two still had some of the familiar beats of a rom-com, which you'd expect, it felt like there was some genuine care to their making. The first two acts of Always Be My Maybe were done with similar care but the third act felt too rushed and choppy, which is what lowered my score a bit. 
15. Fighting with my Family (79/100)
I also really like Stephen Merchant so I was excited when I found out that he directed Fighting with my Family..and that it was free on Hulu. Sure, it's predictable and it isn't overly funny/dramatic/etc. Am I selling this one?
Listen, it was just plain enjoyable, alright?
Also, Florence Pugh – take a bow! I had never heard of her before but she had a massive year in 2019 (Fighting with my Family, Midsommer, Little Women) and it keeps on rolling into 2020 as she's starring in the upcoming Black Widow movie.  
14. Uncut Gems (80/100)
Uncut Gems is yet another movie on this list that just didn't live up to its hype for me. Adam Sandler was very good in this role, which is such a breath of fresh air given the movies we're used to getting from him like Murder Mystery or Grown Ups 7. 
A common theme I saw among reviews was that Sandler's charisma took this obnoxious character and made us root for him. I just didn't get that. To be honest, I didn't really care what happened to his character. This is similar to what I said for The Last Black Man in San Francisco – I can understand why people would love this movie but, without that connection, it just ranks as a fine movie for me. 
13. Marriage Story (82/100)
The most common thing you hear about Marriage Story is that the acting is phenomenal and, in that regard, it completely lived up to the hype. Scarlett Johansson and Adam Driver deliver exceptional performances. Laura Dern plays a perfect divorce lawyer and seems like a lock to take home the gold for Best Actress in a Supporting Role (to be fair, she wouldn't be my vote – more on that later this week). It sounds odd but I think it can be incredibly tough to play real-life characters and they do it so well. 
Marriage Story delivered on everything it wanted to and it's crazy to think how many people go through this type of strain on a daily basis. Still, I finished this movie thinking "wow they really nailed what they were going for and I'm glad I watched it … but I have no interest in going back and watching it again." 
12. Peanut Butter Falcon (83/100)
I have nothing to say other than this movie is delightful.