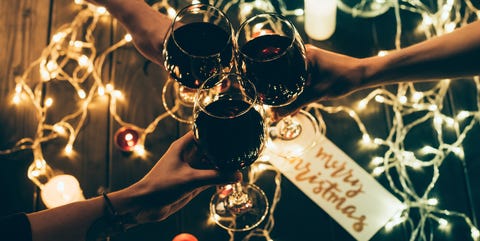 A group of friends meet monthly for what they call "Wine Club". They each bring a bottle of wine, blindly taste each one, rank it and try to guess which one it is. And each month there's a new theme (eg: geography, wine type, season, etc). It's early December and the theme is "Holiday wines". Among the wines brought are Beaujolais nouveau, a Saint-Nicolas-de-Bourgueil wine, Electric Reindeer Moscato and one person brings what's called The Christmas Cabernet which immediately becomes the unanimous favorite wine of the group. They later discover it comes from a family-run vineyard in California, and the family name? Christmas. 
Mallory (Morgan Saylor), who brought the wine, writes for a small blog in her town and decides to write a holiday piece about wines for the holidays. The main focus of her article though, was the Christmas Cabernet. While over her break, she visits family in California, and decides to venture out to the Christmas family vineyard. When she arrives, she realizes they are close to shutting down! The wildfires that raged across the West this past year destroyed so many of their grapes and without their spike in sales over the holidays, the Christmas family is struggling to keep the vineyard running.
While there, Mallory and Jake (RJ Mitte), the son who is to take over the family winemaking business, become romantically involved and are determined not to fail. He keeps it barely running for months, while she goes back and forth to her home. The following holiday season comes and sales start to pick up again. But will it be enough to stay in business? Mallory's original blog post gets picked up by a larger company and eventually becomes viral. The online orders come flocking in! And due to the story of the family struggling, many tourists make it part of their California vineyard trips! Business is booming and the Christmas family celebrates their best Christmas yet!