Do you ever have friends or family visit from out of state and wonder, what the heck am I going to do with these people? It's weird, because there is literally so much to do in and around Boston, but when you only have a few days, you want to make sure you show them a good time. For me, I never want to be known as the Bostonian who's go-to is Cheers when friends are in town. No, no thank you. I'm offering up some suggestions on places you may want to try with your buddies. Trigger warning, some of these may rebel-rouse the locals but hey, maybe they will also inspire you to go off the beaten freedom trai– I mean path, next time.
For the Insta Influencers
Okay so Boston is home to Acorn Street, "the most photographed street in the country," according to the Boston Globe. While it does give off that historical je ne sais quoi, it actually looks like any other street downtown. If you have an IG fanatic or influencer visiting, try taking them to the Quincy Quarries Reservation in Quincy, MA. (For those who aren't from around here, it's "Quin-Z" not "Quin-See.") The Quarries show a different side of Boston history: These quarries were the source of stone for many impressive buildings and sculptures across the state and even the country, including the Bunker Hill monument in Charlestown. The last active quarry closed in 1963, but Quincy became known nationwide as "the Granite City" (MassGov). Today, the quarries are great for short hikes and picnics, but are most iconic for their beautiful graffitied rocks. Plus, you can get there from the city by train. It's a great idea for a day trip. #DoItForTheGram #PhotoCreds
For the Seafood Lovers
Boston is known for its seafood. I tried so painfully hard to refrain from any Boston accent verbiage, but yes it is home of the clam chowdah. I've been to many of the top dogs of MA seafood: Sullivan's, the Clam Box, and even the original Legal Seafoods. But if you are down for a 40 minute drive north of the city, Woodman's is home of the best fried clams in the state, and definitely worth the trip. Woodman's has been around for over 100 years, and they just know how to keep it classic. My only advice is to go on an empty stomach, because it's a long way home. Only downside is that there's not tons to do in Essex itself, unless you are an antique shopping fiend. 
For the Big Boss in Town
This one goes out to the Big Bosses out there. I'm going to leave the definition of Big Boss up to your own interpretation, but I promise you, this is a good one. With the recent development of Encore, the new casino in Everett, one could say that the night life options have anted up a bit. Horrible joke. But what if I told you there is a place better than Encore for your Big Boss buddies. Michael's Cigar Bar in Worcester is an experience I've had unlike any other in Mass. You know when you're celebrating a big life event like a graduation, or buying a new house, or quitting your job, and you just want to celebrate with good ol' cigar? Literally go to this place. What once was a gentleman's bar is now a den for both the Big Boss men and the Big Boss ladies. You walk in, and for no reason at all you suddenly want a Whiskey on the rocks and start quoting James Bond uncontrollably. Bonus anecdote: The one time I came here, there was a celebrity in the house. Of all people, it was Tech N9ne. Great guy, got a pic and everything. Caribou Blue was blasting.  Absolute Big Boss energy!
For the Fine Arts Fanatic
If your Tour de Boston Area includes going to a museum, you've picked the right city. There are lots of fantastic museums in the area: The Museum of Science, Museum of Fine Arts, Children's Museum, John F. Kennedy Museum, and many more. But for the ultimate museum experience, you gotta go to the Isabella Stewart Gardner Museum. My mom asks me every time I see her if I've seen the new Netflix Documentary on the Stewart Gardner Heist yet, (which no, I haven't yet), but this museum is a cultural phenomenon because of the $500 Million heist in 1990. It's an eerie feeling to walk by the empty frames where the Rembrandt original "The Storm on the Sea of Galilee," and 12 other pieces once resided. If you want to read up on it, you can do so here, but basically this theft is still a mystery to this day. World class-robbery aside, the museum itself is beautiful and has a breathtaking courtyard which is fine art in its own right.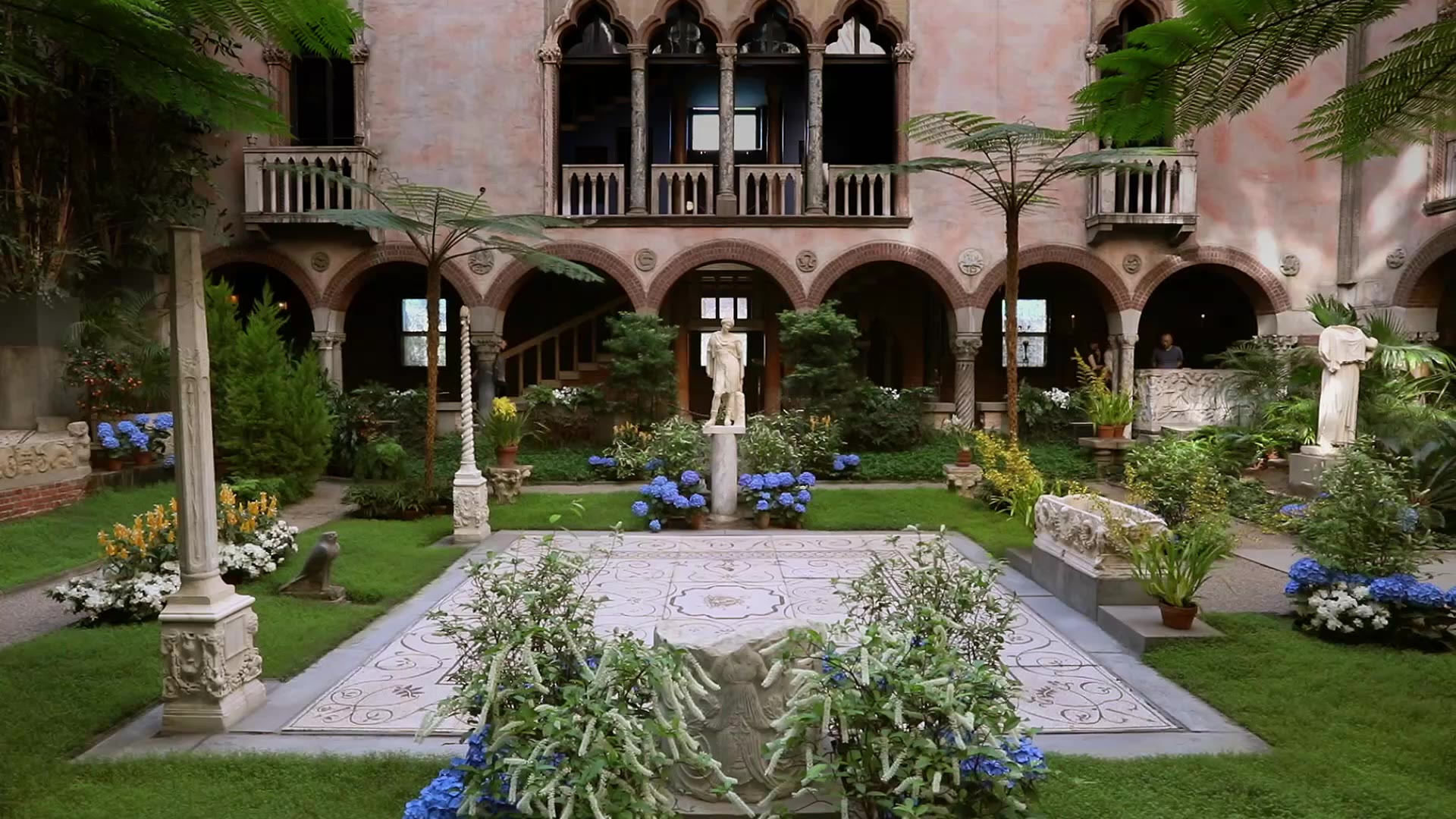 Best Fenway Pre-Game Spot
It's probably already a given that you're going to go to a Red Sox game, let's be real here. Now, there is likely lots of speculation about the best pre-game location for a sox game. Some will say the Cask N Flagon because it's your first stop in between the T and the ballpark. Some will say the Bleacher Bar because it's literally inside of the ballpark. Others will say Baseball Tavern…oh, too soon, RIP. For the sake of picking an option that is in the vicinity of the ballpark, I'm 100% going to have to go with Game On!. Game On! Is like the mullet of pre-game locations. The main floor is, you know, nice. Maybe a couple families. A couple guys in suits who just came from work and have to have a drink because it's a chore for them to sit behind home plate with their corporate tickets. But the basement of Game On! is the party in the back. They have ping pong tables, corn hole, and TVs all around the main bar. Bonus anecdote: That's where I watched the Red Sox win the 2018 World Series and it was absolutely electric. 
For the Foodie
You know when Dorothy clicks her heels in The Wizard of Oz and says "There's no place like home." Well let me tell you, there is no place in Boston, like Kanes Donuts. With three locations, two in Saugus, and one in the Financial District, this is the place where you can wow your friends, and have your foodie friend whippin' out their phone. Aside from their insane variety of flavors, they offer a wide variety of gluten free donuts which are literally just as good as the gut-busting glutenous ones. I am a Dunkin' girl at heart, and my love for Dunks will always remain, but in the world of donuts, there is no competition.
For the Foodie (Runner-Up)
 A close runner up is Cabot's Ice Cream in Newton, where you can get an over-the top ice cream sundae, which is served with an additional plate to catch all the toppings that fall off the sides. They do everything old school there, so remember to bring cash with you. Bonus anecdote: BJ Novak, Newton native and producer of the Office (and plays Ryan) is also a fan!
The Boston Keepsake
When it's time for your friend to leave the city, and they want to get some sort of souvenir before they go, I have a few recommendations for you. There are certain places you can go to that will nail what you're looking for. The first is the Brookline Booksmith, which is in Coolidge Corner, Brookline. They have quirky items of all sorts ranging from mugs to jewelry to, well of course, books! More specifically, they have tons of Boston items like tea towels, coasters, postcards, apparel, and more. And no, they are not like the hoodies that you can find downtown that say "Boston" in Arial font. If you're in the mood for a little bit of an exploration, and a one-stop-shop before heading home, I recommend checking out the booksmith.
Boston is a big business city as well. Lots of companies are headquartered right here in Boston, like The Boston Beer Co. (Sam Adams), and New Balance. It's a fun idea to check out the Sam Adams Brewery or Sam Adams Taproom downtown and get a souvenir glass or t-shirt. Or to check out the New Balance global flagship and factory store in Allston-Brighton for a pair of souvenir running shoes. The Boston Landing area has other great pit-stops like Harvard Business School and the practice arenas for the Bruins and Celtics. 
Of course you can also always see what Boston artwork I have in stock at my Etsy shop. Wicked shameless plug.
All and all, Boston is a city of wonders, and you don't really even need to have a game plan to enjoy a great time here, but I thought these places might get your juices flowing. I'm all ears you have suggestions yourself, drop a comment or tweet me at @yo_EmmaT. 
---